Painting Services
Adding a fresh coat of paint can do wonders for improving the appearance and condition of your property. But putting the paint on smoothly and ensuring that it stays put takes more work than you might think. If you'd rather leave the labor and mess of painting to experienced pros, contact the painting contractors at ANDY OnCall® Chicago and North Shore. Our professional painters have the know-how and skill to readily tackle your painting tasks, not to mention the brushes, rollers, ladders, and other necessary tools. We're just a phone call away to handle your interior painting services and exterior painting services. Give us a ring today to schedule your appointment!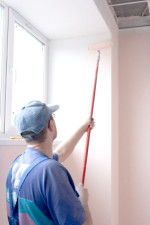 Whether you're looking for residential painters or commercial painters, you're going to love the personal attention and terrific results you get with the team at ANDY OnCall®. We take a customized approach to your painting service, providing as much or as little assistance as you need with:
Wallpaper removal
Taping edges and fixtures
Drop cloth protection
Scraping peeling paint
Patching walls
Sanding and priming
Properly applying paint coats
Complete cleanup
And more!
Since solid preparation is key to great results when it comes to painting, you can rest assured that our painting contractors will do whatever is required to ready your walls and other surfaces for a successful outcome. Let us roll up our sleeves and get to work on removing wallpaper, scraping loose paint, repairing holes, and anything else you need. As your one-stop handyman in Chicagoland, we're here to carry out your painting services from start to finish.
Versatile Painting Contractors
When you want your project to come out beautifully, you want ANDY OnCall® Chicago and North Shore as your painting contractor. We can paint one bathroom, a few bedrooms, or an entire home or commercial space complete with ceilings, trim, and woodwork. Plus, unlike most painting companies, we can help with a lot more than just painting. We can provide painting service on top of installing tile, renovating a bathroom, or tackling other handyman tasks, getting the whole job done without having to hire separate commercial or home painters. That's what makes ANDY OnCall® your one-stop source for jobs big or small. Call our local painters today!
Here's another great reason to rely on our professional painters in Chicagoland. We're licensed, bonded, and insured, and all of our painting services are backed by a one-year warranty in writing. Why put off your painting services any longer? Reach us by phone or e-mail.
Painter
Painters
Painting Company
Professional Painting
Painting Contractor
House Painting
House Painters
Commercial Painting
Home Painters