Exterior Handyman Services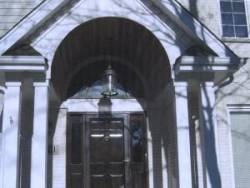 No matter what your exterior installation or repair needs, call ANDY OnCall®. Let our handyman services experts enhance the efficiency of your home with the installation of a new storm door, or beautify it with a fresh coat of paint! We can even help give your business an entirely new, swank look that will have the customers rolling in. At ANDY OnCall®, our handyman services can help turn a dilapidated building into the jewel of the neighborhood. Using the most up-to-date techniques and top-notch equipment, our handyman home services experts bring you clean, expert results that will stand the test of time. If you're in need of exterior home repairs or are just ready for some upgrades, give us a call today to get started!
The daily demands of work and family don't leave you a lot of time to dedicate to enhancing the exterior of your home or business. You shouldn't have put off a job until you have a spare time—make sure your job gets done right, and done now! Quit putting off those jobs, and invest in professional-quality work from experienced handyman services providers—let ANDY OnCall® be your handyman service in Chicago. Our experienced team will have your home or business looking its best and will save you the time, money and stress of trying to perform these complicated or time-consuming tasks yourself. When you need handyman home services in the North Shore area, ANDY OnCall® is the name to know for a job done right the first time.
Just some of the handyman services provided by our experts are:
Siding replacement and repair
Deck repair
Deck power washing
Door installation
Fence installation and repair
Overall exterior maintenance
When your home looks great, it will brighten your entire neighborhood. When your business can boast a smart style, it will look more welcoming and successful for customers and employees. Improve the value of your home or business, and rid your property of those eyesores and imperfections! Whether you need to have a fence repaired or have a handicap ramp installed outside your business, call an ANDY's home handy man. Not only are we a Better Business Bureau-affiliated company, but our jobs come with a one-year written warranty, free estimates, and service with a smile. Call ANDY OnCall® for exterior handyman services today.
Handy Man Service
Handyman Service