Electrical Contractor Services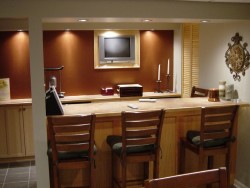 At ANDY OnCall®, we know how to make electricity work for you. Maybe you've just purchased a new dishwasher and you need help installing it. Or maybe you just want to have a porch light installed for extra security at night. Whether your lights keep flickering at the most inconvenient of times or you need additional outlets added to your living room, our professional electrical contractors are here to help. Whatever your electrical problems or needs, ANDY OnCall® Chicago and North Shore can send an experienced electrical contractor out to your property to troubleshoot the issue and provide installations and repairs. For the best handyman services and residential electricians in Chicago and the North Shore, contact the pros at ANDY OnCall®.
Some of the jobs performed by our electrical contractor team can include:
Light switch installation
Light fixture installation
Security, landscape, and other outdoor lighting
Ceiling fan installation
Outlet installation
Outdoor outlet installation
Electrical troubleshooting
Appliance installation
For quality workmanship, always rely on the handiwork of a trained electric contractor like ANDY OnCall®. When working with any electrical fixture or repair, no matter how simple or complex, you are dealing with a maze of wires, strong currents, and often archaic components that were installed many decades ago. Our electric contractors are familiar with both older technologies and the most up-to-date equipment as well as safe installation workmanship to ensure a job done right and a quality result every time. Don't risk electric shocks trying to tackle a complicated repair or installation yourself. You can put your trust in our professional electric contractors!
How many times have you used electricity today? Chances are, you can't even count. At ANDY OnCall®, our electrical contractors know how important appliances, lights, and other conveniences are to your daily life. That's why we're your go-to source for electrical repair and installation as well as other handyman services. Call ANDY OnCall® today to learn about our discounts and to set up a time for our residential electrical contractors to give you a free estimate. You'll see why we're the best electricians in the North Shore area!
residential electrical contractors
electrical contractor
electricians
electrical contractors