Deck Restoration
Constant exposure to the elements can be rough on your deck. But you don't have to let a dirty, weather-beaten deck spoil your outdoor fun. If your deck is looking grimy or showing signs of disrepair, get in touch with the deck restoration team at ANDY OnCall® Chicago and North Shore. As part of our extensive menu of exterior handyman services, we're available to assist with seasonal needs for deck cleaning and deck maintenance. Rather than dropping big bucks on a replacement deck, why not restore your deck's surfaces to look and perform like new? Call us today for deck cleaning, staining, wood repair, and more. We'd love to help!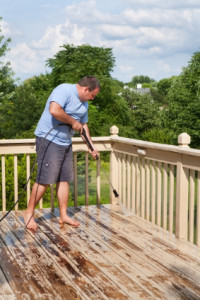 It's not just the weather that can weaken and damage your deck. The more use your deck gets, the more likely it is that you'll have loose boards, railings, or steps in need of timely attention. That's where deck restore assistance from ANDY OnCall® can really come in handy. We provide a number of deck maintenance services for homeowners and businesses alike, including:
Deck refinishing
Grime removal
Wood sealing
Deck staining
Professional painting
Deck repair service
And more!
When it's nice enough to enjoy some outside R & R, the last thing you want to worry about is an unattractive or unsafe deck. So whether you're seeking deck cleaning and staining, wood deck maintenance, or deck repair service, let the pros at ANDY OnCall® help you keep your deck in tip-top shape. By having us replace cracked or rotting planks, railings, or stairs, you can prevent accidents and injuries and enhance the overall safety of your deck. Our deck cleaning contractors can also remove grime and then seal, stain, or paint your deck to beautify and protect the surface. All you have to do is pick up the phone and call us for the deck restoration service you need.
Recognized for Deck Staining Services 
ANDY OnCall® Chicago and North Shore is delighted to be recognized as one of Thumbtack's Best of 2015 contractors in the Deck Staining category. We're especially proud that so many recent customers took the time to share their positive comments about our deck staining services. That's just one part of many deck restoration services we offer to keep your deck looking good and standing strong year in and year out. So sit back, relax, and leave your deck maintenance chores to the top-rated professionals at ANDY OnCall® in Chicagoland. Take it from our customers: Your deck will look better than it has in years!
Don't forget...we also provide deck refinishing and repair services for Chicago-area commercial properties. Call us to restore decks for restaurants, rental properties, or wherever you want your customers to have access to a clean, well-kept deck.