Bathroom Remodeling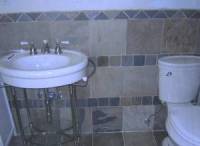 Does your dated bathroom bring the ambience of your whole home down a notch? Are you sick of looking at that turquoise sink or that hideous wall vanity from the 1950s? Going in to use the bathroom does not need to feel like a time-traveling experience! It's time to get your bathrooms remodeled. Update and upgrade them with the latest bathroom remodeling choices: call the bathroom remodelers at ANDY OnCall®. From adding sophistication to eliminating those dating touches, we can help you get the bathroom of your dreams.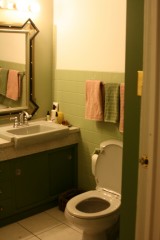 Before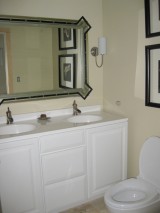 After
Whether you want double his and her sinks for a cute romantic touch, an entirely new lighting system so your guests can better see the mirror, or a huge new Jacuzzi tub, our bathroom remodelers have the skills and know-how to get your job done quickly and properly. When you choose ANDY OnCall®, you can have your newly remodeled space in no time, and enjoy it with no hassle! Our expert bathroom contractors will see to all your plumbing needs to ensure a smooth transition from one style to the next and will ensure that everything is properly sealed to prevent leakage, from your new faucets to the base of your toilets. At ANDY OnCall®, our bathroom remodelers can do everything: from threading your drain stems to anchoring mirrors and vanity installation to installing a tub surround for your new whirlpool tub! Check out all of the options:
Sink installation
Vanity replacement
Tub/shower/Jacuzzi installation
Toilet installation
Lighting installation
Framing and drywall
Painting
And more!
Our bathroom remodelers can help you draw up a specific plan for your bathroom that will address your needs and desires and will take special care to preserve any current gems, such as special tiling or fixtures while updating your bathroom. Call the bathroom remodeling contractors at ANDY OnCall® today to learn more about the options available for your bathroom.
Trust an ANDY OnCall® bathroom contractor to bring your bath into the 21st century! Our bathroom remodelers will ensure a safe, functional space that works flawlessly and will bring comfort and satisfaction to its users. The only thing left for you to do is pick your style. Let us help bring your ideal bathroom to life, banishing that outdated look and putting in a beautiful, up-to-date design. Call now to get started!
Bathroom Contractors
Bathroom Renovation