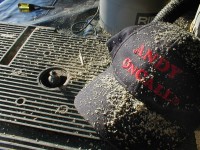 When you need handyman services in Chicagoland, you need ANDY OnCall®! Our team of professionals is here to help you keep your home or business in tip-top shape. Maybe you need an electrical contractor to install an extra light switch or maybe the tiling in your kitchen has seen better days. If you're a stranger to the toolbox, or just a busy individual who doesn't have the time to handle installations, maintenance, and repairs, call an ANDY OnCall® handyman to take care of your "honey-do" obligations for you. Your residential or commercial property should be beautiful, safe, and well cared for. At ANDY OnCall®, we're here to help.  Our experienced staff is trained in plumbing repair, sump pump installation, tile installation, and more. Call today to learn more about our handyman services and how we can take great care of you!
Licensed, bonded and insured
Interior and exterior handyman services
Sump pump installation/repair
Bathroom remodeling
Residential and commercial work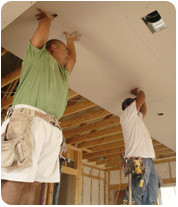 Serving Chicago, Evanston, Oak Park, Mt. Prospect, Glencoe, Wilmette, Glenview, Winnetka, Skokie, Lincolnwood, Niles, Morton Grove, and surrounding areas, ANDY OnCall® is ready to take care of all of your home improvement and maintenance needs. We're fully licensed, bonded, and insured and affiliated with the Better Business Bureau and the Evanston Chamber of Commerce. We're even lead-safe certified by the Environmental Protection Agency (EPA)!
Just one phone call to ANDY OnCall®, and we will send an experienced handyman to your address to take care whatever you need, from plumbing repair to a variety of electrical repairs to painting service. Our handyman services are designed to make your property look great inside and out, and to help you feel comfortable in your atmosphere. Don't put up with that malfunctioning light switch or your unreliable sump pump for one more day! Your place should look and work the way you want it to. When you call ANDY OnCall®, you can enjoy your home or your commercial space at its full potential. Contact us today to learn more about how our team can help you get the most out of your property.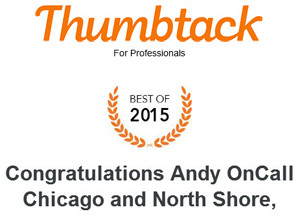 Your service, Andy OnCall Chicago and North Shore, is ranked as one of Thumbtack's Best of 2015 in the Deck Staining category as a result of your great customer reviews. This is a terrific vote of confidence from your customers in the past year—and a great way to stand out this year. We're proud to prominently feature your business on
this page
of our website.